Western Digital's WD My Passport® series is a popular line of external portable USB hard drives, manufactured for over a decade. While Western Digital is one of the most reputable hardware manufacturers in the data storage space, every hard drive has a shelf life, and Western Digital My Passports are no different. 
Sometimes a drive may fail – often without warning – prompting a computer user to ask:
Why is my Western Digital My Passport not showing up?
The clues and messages that there might be a problem vary depending upon the computer's operating system. Here's how to check (and confirm) whether the problem you are experiencing is something that you can fix or whether this is an issue that may require data recovery.
---
WD My Passport not showing up in Windows® 10
To answer the question, why won't my computer recognize my WD Passport? We must first establish that there are a few different ways to look for your My Passport external drive using Windows 10.
One of these ways is to go to the search window / collapsable menu on the left-hand side of the display and select the "This PC" option.  This should open a new window like the one in Figure 2.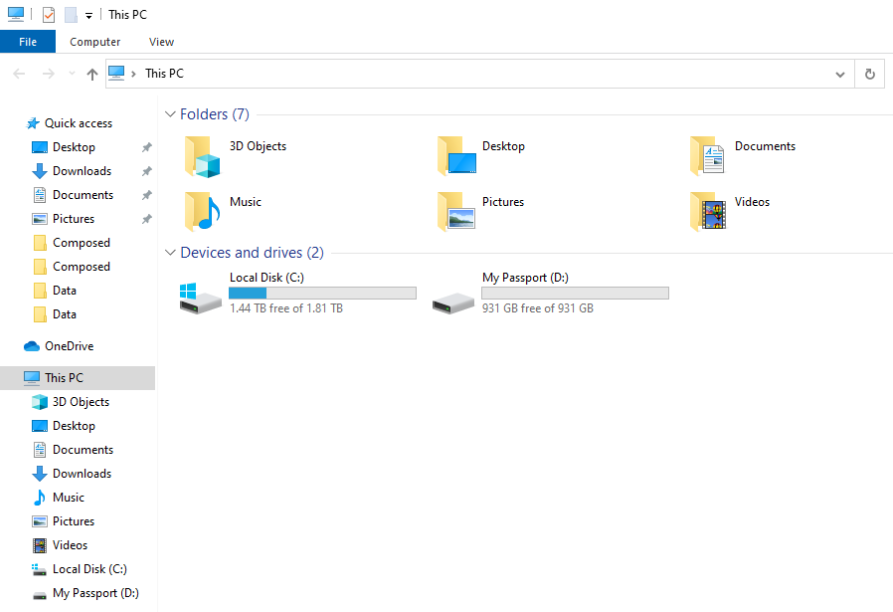 Hard drives and other storage devices appear under "Devices and drives."  The Local Disk (C:) is the drive the computer uses to boot (i.e. start), and the My Passport (D:) external drive shows up properly to the right.  If the Passport drive is missing, it means that the computer doesn't recognize it.
WD Passport Not Showing Up in BIOS or Disk Management?
Another way to check your external My Passport is to type "Disk Management" in the search window.  The information displayed is a bit more detailed, because it shows the drive formatting scheme(s) and partition sizes.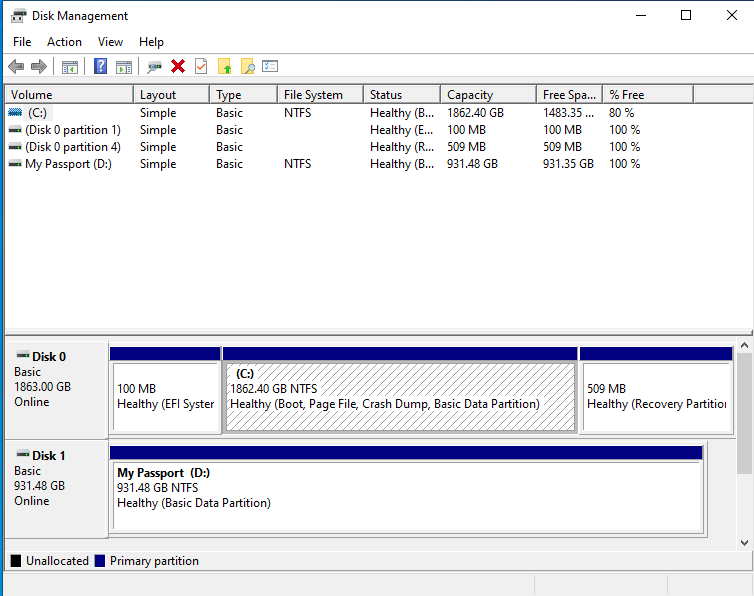 The My Passport drive shows up as Disk 1 or (D:).  Note that the utility reports that the drive is Healthy.  If the drive doesn't show up there, or does not report that it is healthy, then data recovery is indicated.
WD My Passport Not Working (Windows OS) 
WD My Passport Makes PC Unresponsive
If connecting your drive freezes your Windows desktop, there is a strong possibility of hardware failure.  If replacing the USB cable doesn't solve the problem, then most likely the hard drive has a PC board failure and data recovery is necessary. 
My Passport Freezes Computer When I Try to Copy Folders 
If the computer freezes when you try to copy data to it, your hard drive may have bad data sectors or other problems.  However, if your computer freezes when you try to copy files from the Passport to the PC, your PC's hard drive may have its own issues!
WD My Passport Data Recovery
There are a wide array of potential problems that can arise with WD My Passport external hard drives. This article details some of the problems Windows users can face with their Western Digital My Passports. Whether you're experiencing one of the WD My Passport problems we have covered in this piece, or an issue we have not discussed; the data recovery professionals at Data Savers LLC are here to help. Don't hesitate to reach out today!
Request an Estimate from Data Savers LLC Today!