What could be worse than having your file system shut down and fail in the middle of a very busy Monday? You're in the middle of preparing for a presentation and see a pop-up stating that your Mac hard drive has failed. In a frantic panic, you run First Aid hoping your issue is minimal and could quickly get resolved. Then you get this error: File System Check Exit Code is 8.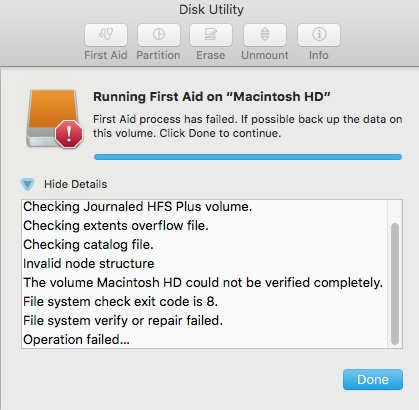 What is a File System Check Exit Code is 8 Error?
After running Disk Utility First Aid on your Macintosh system, you may occasionally receive the error code "File system check exit code is 8". While First Aid can repair this error, this outcome is highly unlikely – mainly when the error results from physical failure.
The "File system check exit code is 8" error indicates a corrupt filesystem found during a systems check. Post-diagnosis, the error message appears if the problem is beyond the scope of Disk Utility's First Aid program. Despite First Aid's best efforts, your file system could not be accessed, found, or used. In this case, you will not have access to the files and documents in the drive.
What Causes The File System Check Exit Code 8
The primary cause behind this error code is data corruption in your hard drive. Subsequently, this failure can fall into one of two categories:
Physical Failure Causing File System Check Exit Code 8
Physical failure occurs when the hard drive's mechanisms and components become physically damaged due to factors such as sustaining jarring physical impact (i.e., dropping), years of wear-and-tear from consistent use, aging, and water. Any of these factors could lead to failure in a hard drive's vital components.
Logical Failures Causing File System Check Exit Code 8
Logical failures occur when the operating system (and by extension the user), cannot access the stored data on the drive due to issues with firmware and/or software. This contrasts with physical failures almost exclusively related to hardware issues. Hopefully, the data remains on the system unscathed. The Data Savers LLC team strongly suggests you refrain from attempting to resolve any of these situations on your own. Unless you have a background in electrical engineering, mechanical engineering, and computer science; situations like these typically require an expert. Ignoring this suggestion may result in permanent data loss.
A few additional phenomena that can lead to this error message are:
Corrupt Mac File Systems
Outdated Drivers and Software
Misconfigured systems
Malignant Viruses
Take note that the nature of the error means that there is no way to know if your system is recoverable or not until the disk reaches a professional mac data recovery center's hands. In many cases, the disk must be reformatted before it becomes usable. When this error occurs, the best course of action is to stop using the disk immediately, and request an estimate from Data Savers.
---
How To Avoid File System Check Exit Code is 8 Error?
A forum posting on macrumors.com highlights user Hrothgar's predicament: he uses a 3tb Western Digital My Book Studio external drive divided into 2 partitions – one for a Time Machine backup and another for storing old photos and video files.
Very recently, he started getting errors on his time machine backups. Despite multiple bouts of attempting to eject the disk or running disc verify and repair, he'd receive similar errors on his screen stating that the disc could not unmount. In great dismay, he turned everything off and turned in for the night.
The next morning, user Hrothgar, once again, ran disc repair and this time, received a different error code – and it said, "File System Check Exit Code is 8."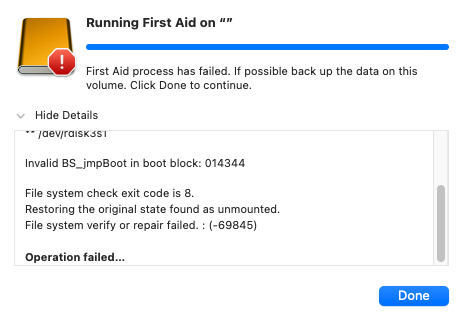 ---
Monitor Through Disk Utility
Wishing to opt for a free version of Disk Warrior? Then sticking with the macOS' built-in Disk Utility might be your best option. The pre-installed program allows its users to monitor the S.M.A.R.T status of their plugged-in hard drive habitually.
The Self-Monitoring, Analysis, and Reporting Technology (S.M.A.R.T.) was developed to monitor, detect, and alert users of a failing hard drive. Monitoring your hard drive's S.M.A.R.T status can be monitored through the following steps:
Opening "Disk Utility" on the Mac
Selecting the disk from the list shown on the Disk Utility Screen
Finding the "S.M.A.R.T. Status" of the disk information overview in Disk Utility.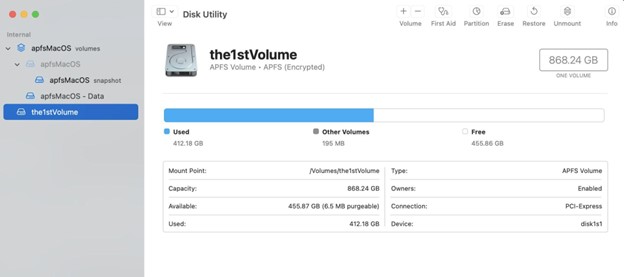 ---
Set up a Time Machine Backup Drive
Data loss can happen anytime, so it's in your best interest to back up important data and update these backups regularly. It's in your best interest to ensure that you have backups upon backups of your files. Backups alleviate the stress from data loss due to human errors, hardware failure, and even virus attacks. Negligence to do so might require professional mac data recovery in cases of failure.
Safe drive ejection is an often overlooked data-protection measure. How often have you finished working on a drive and immediately unplugged it? This is one of the leading causes of file corruption. If you use a removable drive, always eject it using the safe option.
---
File System Check Exit Code is 8 Data Recovery with Data Savers
Naturally, no matter how many safety measures we implement against data loss and file corruption, lady luck is often not so kind. When this error happens, your best option to protect against further or permanent data loss is to get in touch with a professional.
What's Different About Data Recovery With Data Savers?
Aside from free inbound shipping service and competitive pricing, Data Savers LLC is one of the most experienced data recovery labs in the world, with nearly twenty years of experience restoring data that was lost to file system check exit code error messages or similar scenarios. Put your faith in Data Savers LLC and you won't be disappointed!
Request an Estimate for Hard Drive Data Recovery!